AS SEEN ON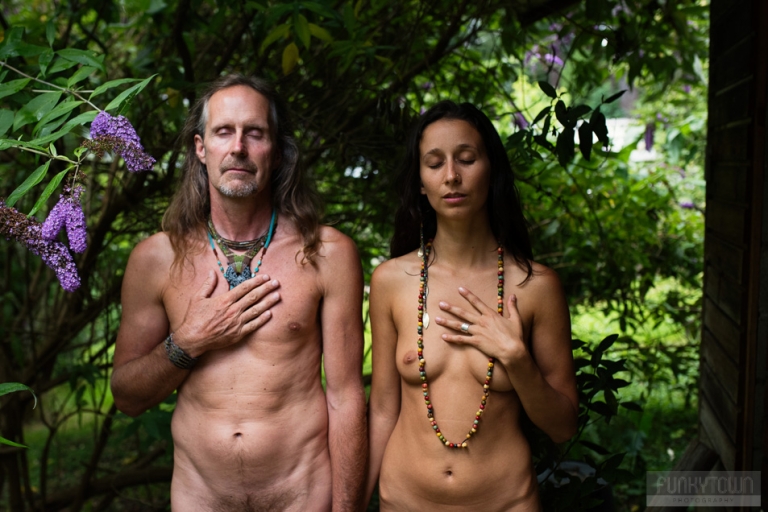 Yes, Darshan and Alex are as fun, interesting and neat as they look! And yes, I'd have to say this was one of the most fun, interesting and neat weddings I've ever had the privilege to photograph. I'm going to be honest: when incredibly talented photographers (and friends) ask you to team up with likes of the awesome Shane Deringer to shoot their wedding, you feel pretty damned honoured AND a wee bit scared! These images are from my camera. I've had a chance to see a few of Shane's on his Facebook feed, and you're in for a treat when he posts his version of this epic, magical, giddy celebration.
Cortes Island has long been a part of Darshan and Alex's life. It's not just where they met, it's a place where the spirit of the west coast is palpable. You arrive by intention. If you're coming from the mainland, you take a ferry to Victoria on Vancouver Island, then a three-hour trip to Campbell River, followed by another ferry to Quadra Island, and then yet another ferry to Cortes. When you arrive you're greeted with pristine lakes, lagoons, forests and seaside cottages. With no real winter, and an emphasis on sustainable living, the island is enchanted. People in this community of about 1,000 residents often hold your hand when they speak to you, an unexpected but wonderful way to make friends.
Darshan and Alex put a lot of their own hearts into creating this celebration. The day before the wedding, we had a chance to do some artistic nude portraits in the gorgeous botanical gardens on their property. They chose to have their first look at the nude rock where they met. All their closest friends hid Darshan so Alex could come up the same trail and see her revealed in her bridal attire. They then paid homage to the Coast Salish First Nations with a traditional smudge ceremony, followed by a quick swim in the lake to cool down before the wedding ceremony. Guests were told to dress in bright, loud colours, which looked great with all the felt crowns Darshan and her mom made for everyone. They were taught a special song with three combined harmonies, to greet the bride and groom (and flower dog) as they walked up the aisle, bringing the couple to tears. When the vows were finished, it was time to break up into teams (according to felt crown colour) and compete for dinner. I'll let the photos speak for themselves. We enjoyed golden hour with live music, some silliness, and dance performances… followed by a "first dip" Cortes Island style just as the sun was setting. Darshan and Alex, I feel privileged to call you both my friends. Being a part of your ceremony was a beautiful experience. I hope your lives are always filled with the same silly giddiness as your wedding day.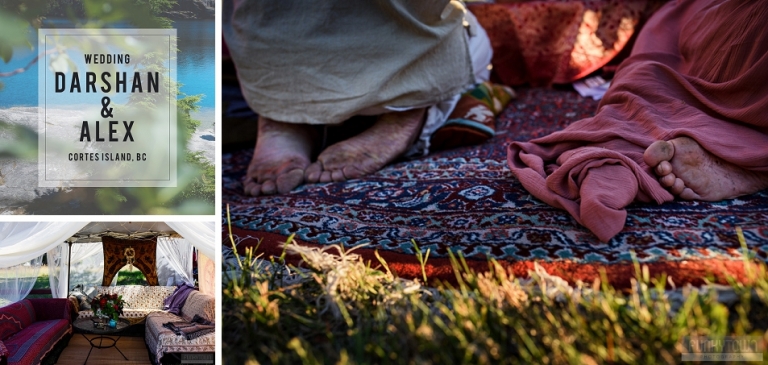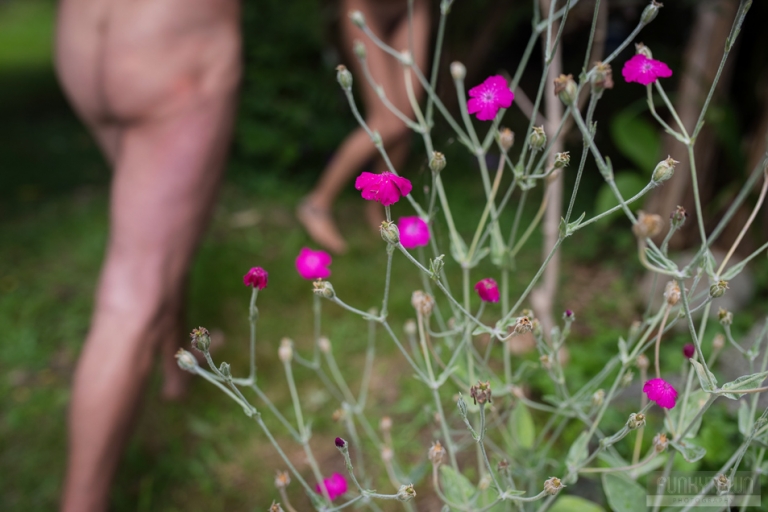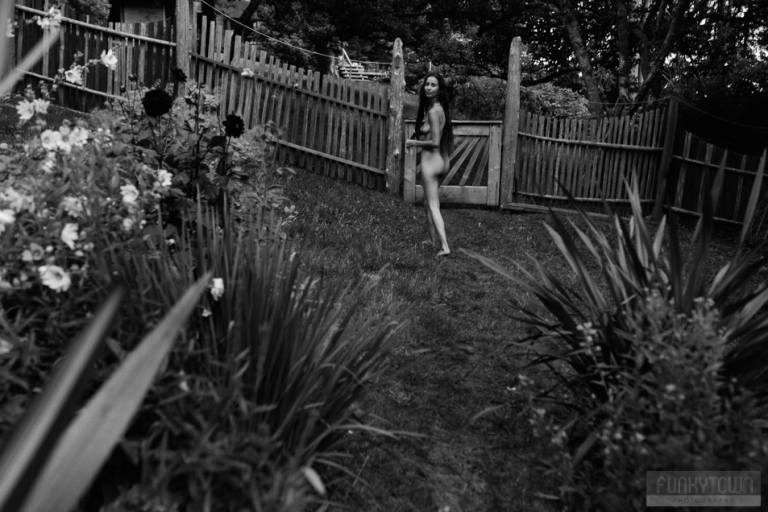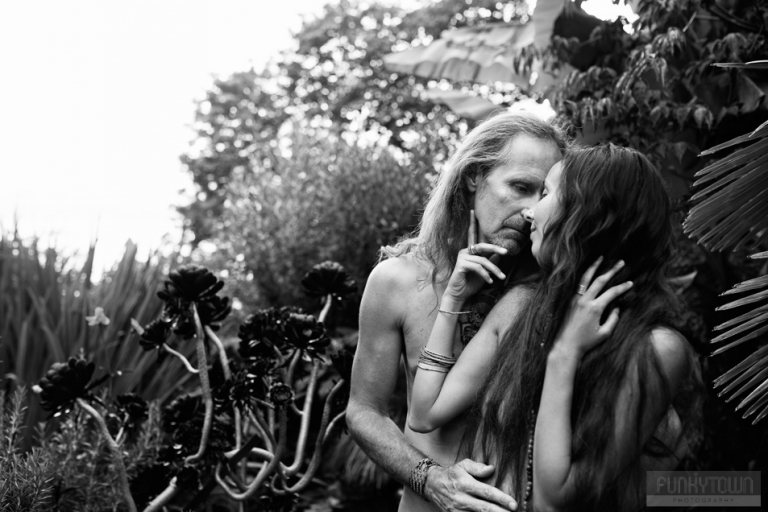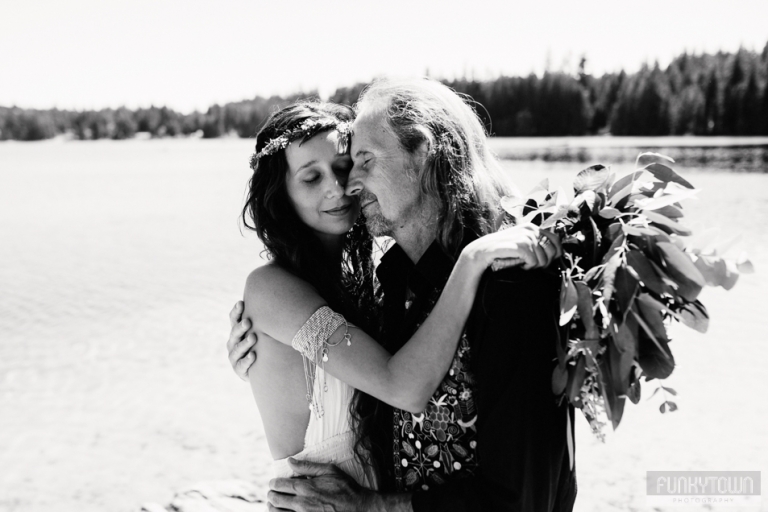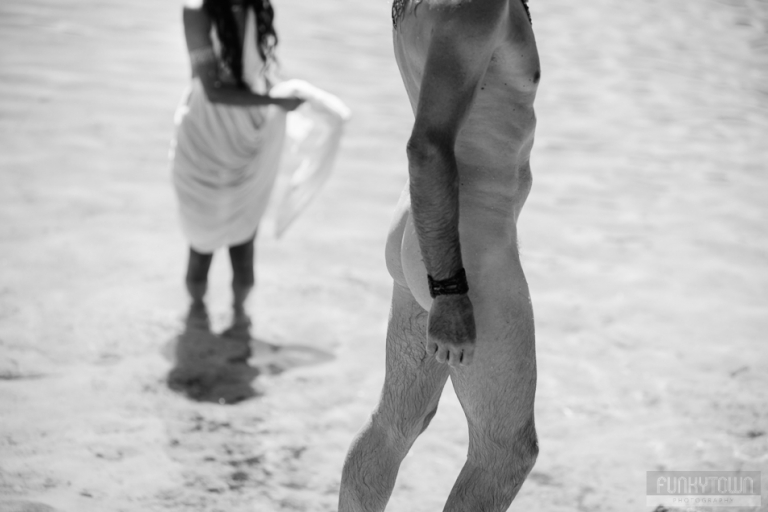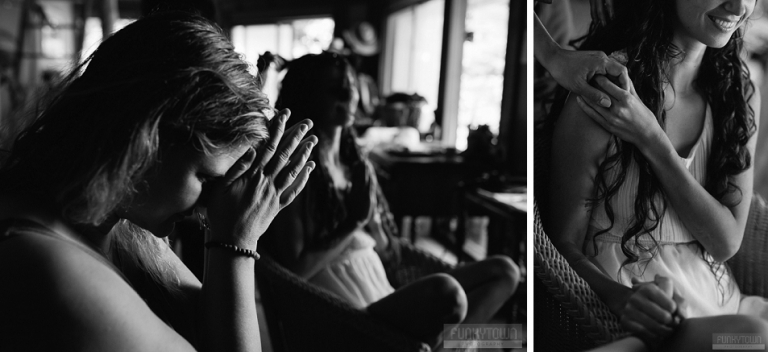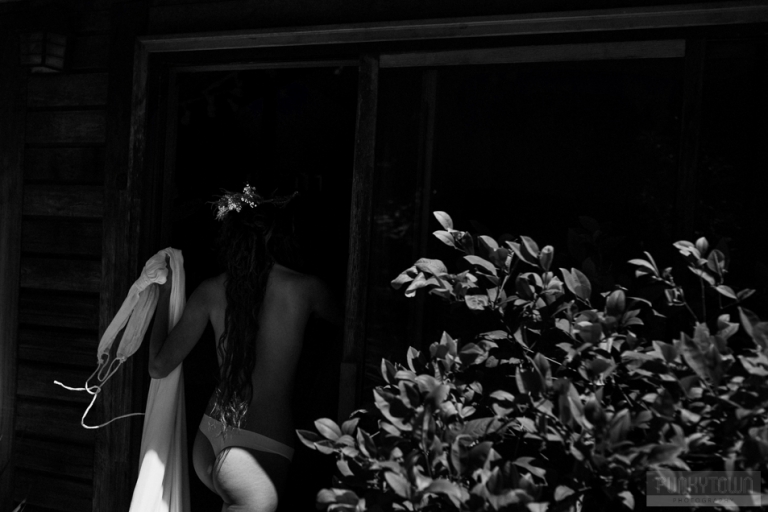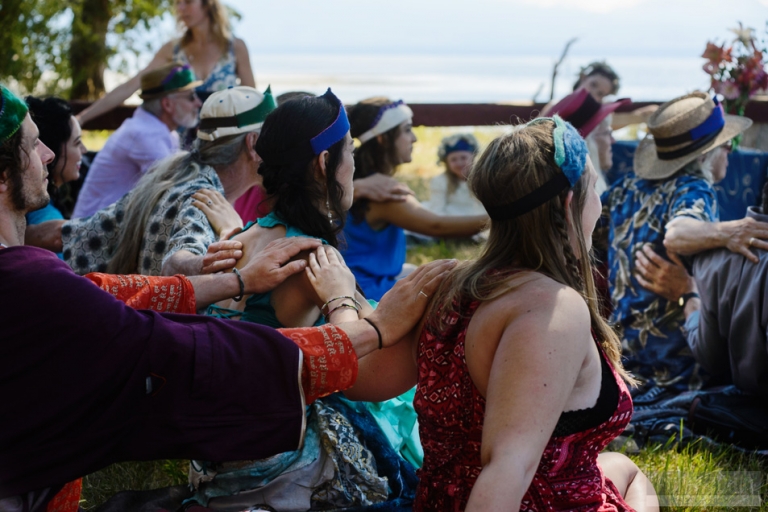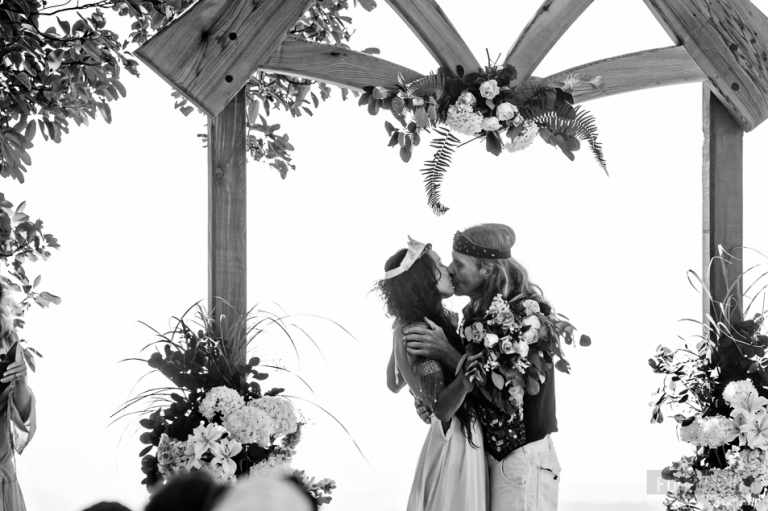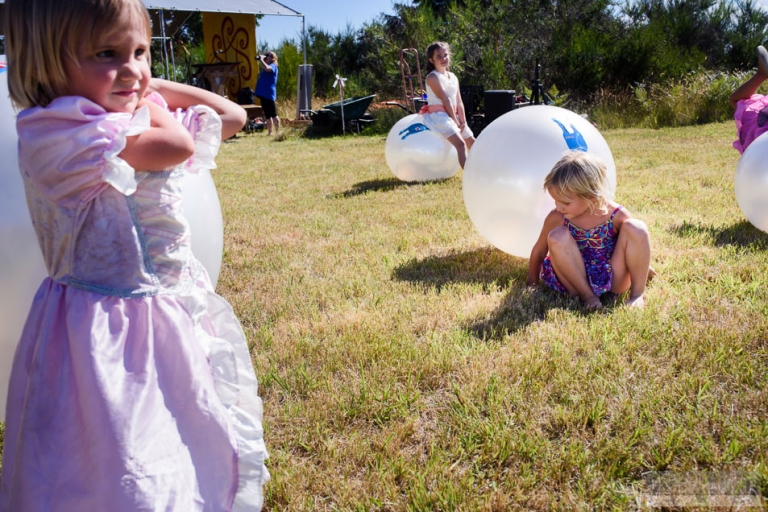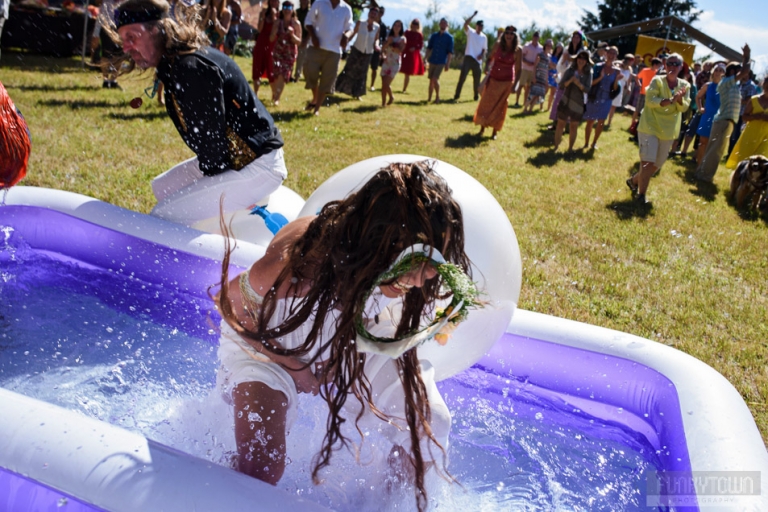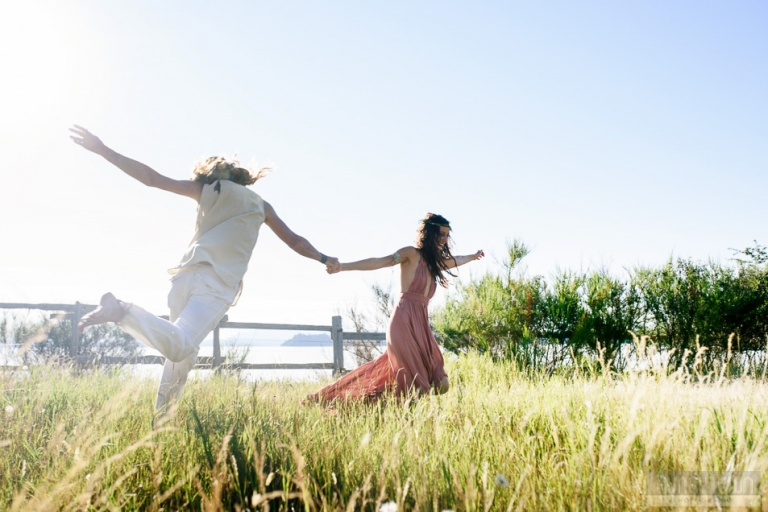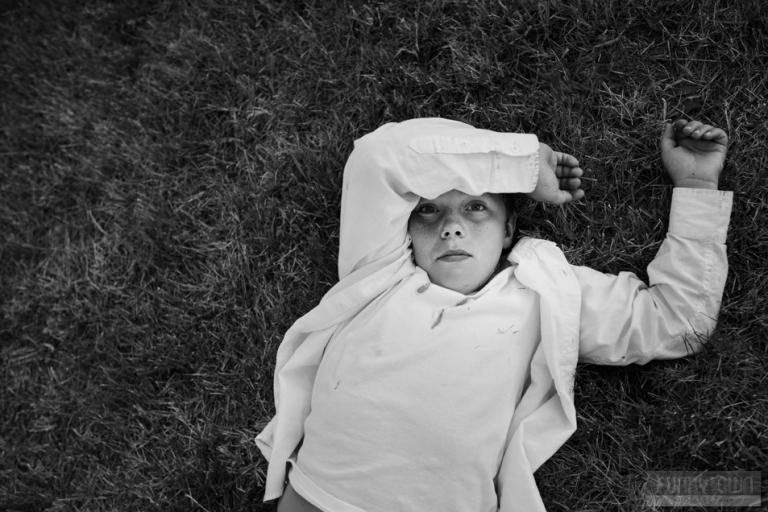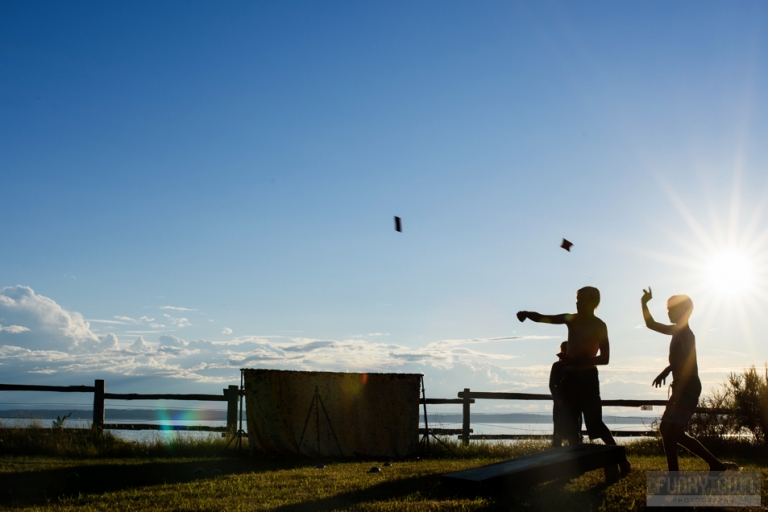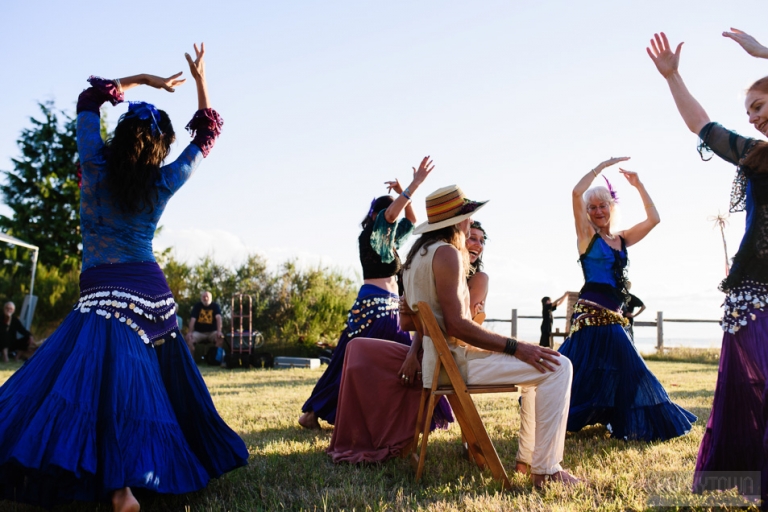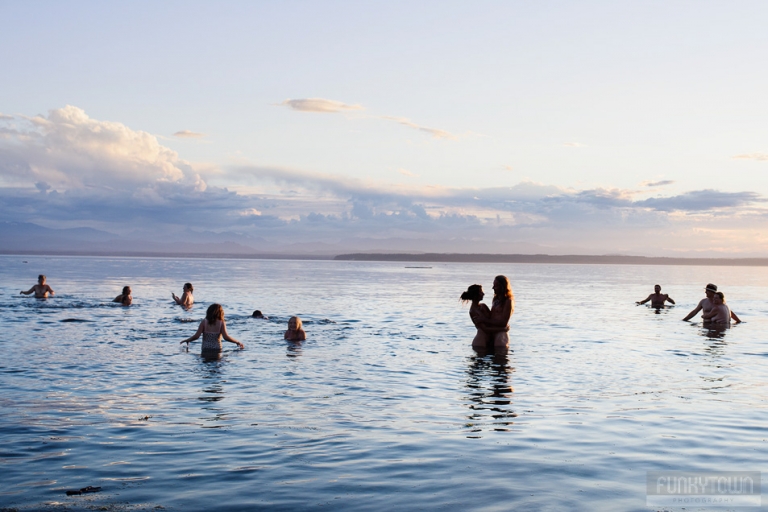 I adore the words said during the wedding ceremony:
"Alex, Darshan, You met at the local nude swimming hole here, maybe 13 years ago.  Alex, something happened just before you met that set the little neck hairs on end. Your intuition told you to pay attention… That you were going to meet someone very important. Very soon. When you got over the crest of the hill on the lake trail, there was only one person sitting on the rock that day. Overcome with a profound sense of destiny, you had the courage to head right over, take your cloths off and introduce yourself. You had a memorable conversation. In fact, it was remarkable. A deep meaningful connection. When you saw her a couple of days later with a boyfriend, you were rather dismayed, disappointed and your faith in destiny was a little shaken. But, perhaps it was just a timing issue. 'Cause funnily enough, over the years, you kept running into Darshan at that same spot each successive Summer. More deep, meaningful connections ensued. And though you had abandoned all hope of this union, you thought many times that you'd like to meet a woman just like Darshan.
Darshan, you felt a powerful connection to Alex right from the start. But you didn't feel the sense you were ready. So, you waited. Also, there was that boyfriend…and then another one. And, meanwhile, over the years there was a tremendous amount of personal work to be done. When you deliberately reconnected with Alex, you knew. Like a struck by lightning kind of knowing. That Alex was the one. And that you were ready. You knew that you knew that you knew."