Over the next few weeks I'm going to post about some awesome locations to get married within Victoria, BC & Esquimalt. Over the last 10 years I've had a chance to be a part of a lot of celebrations Victoria and I'm often asked for advice about venues and locations for urban wedding portraits near downtown. Here are some personal favorites, along with some more information about each spot. The next post will feature beautiful forest weddings on Vancouver Island.
This is the Esquimalt Skate Park. We took Dacia & Brant there for portraits with the wedding party. After trying to get a few photos of some skater boys doing their thing in front of the group, we noticed two handsome young lads watching from a distance. We called them over and they were such good sports about posing with the girls.
On sunny days it's fun to play around with silhouettes in the sun… this time it was the boys in Dacia & Brandt's wedding party who had some fun in front of the camera.  This photo was taken outside the Art Gallery of Victoria, where they had their reception.
Jonathan & Margaret were married in Oak Bay and had their reception at the Union Club. We went to the ocean and downtown for portraits. Usually, when we're walking around with a bride and groom people will come out to check out what we're doing. A store clerk waved hello at us, and this inspired the idea to put the couple in the store window. As you can see in the reflections, passers-by thought it was pretty funny.
St. Ann's Academy has beautiful grounds and gardens, plus the place is so historic, with a gorgeous little non-denominational chapel. Here are a few photos from this fabulous location on Humbold Street in the heart of downtown Victoria.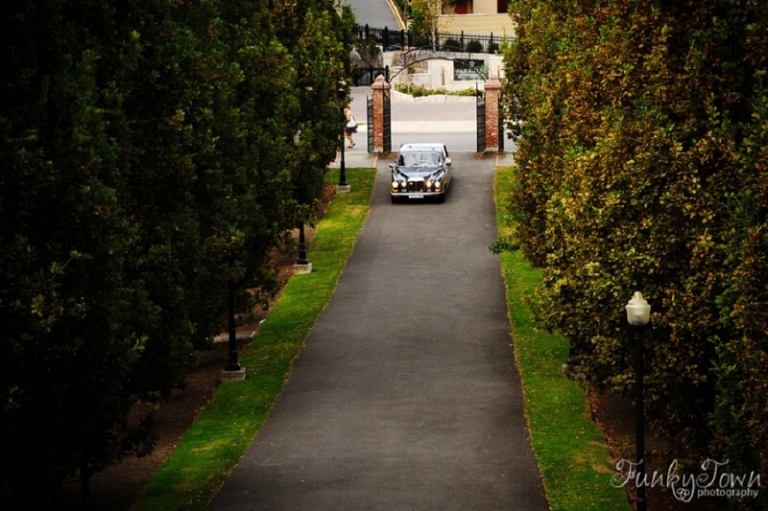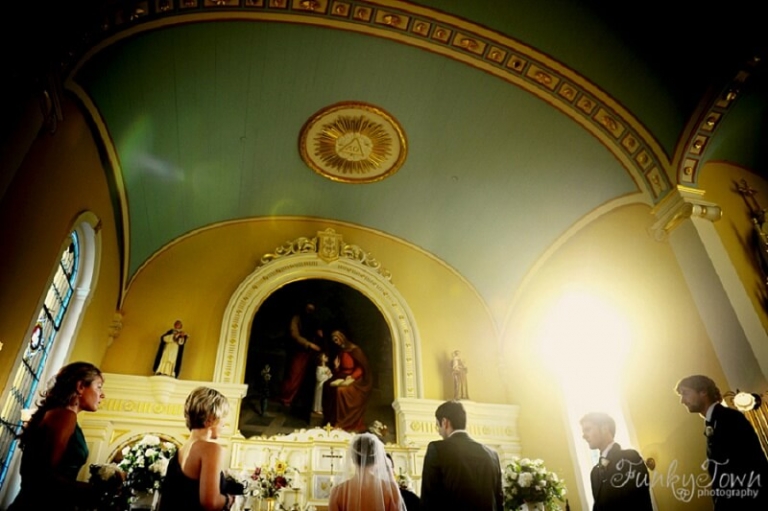 I've photographed quite a few weddings at the Inn at Laurel Point and it remains a personal favorite location of mine. The wedding ceremonies are often held in the garden, and couples usually get the penthouse suite. We took advantage of the reflections in the large glass windows to take these portraits of Rob & Nicole.
One quick story about this awesome location… back in 2007 Eunice & I were involved in a wedding and it was pouring rain. The staff started to put all the chairs inside to re-decorate for the ceremony. Around 15 minutes before the big event, the sun came out and the staff were so fast at moving everything outside and redecorating so the couple could say their vows in the garden by the ocean. How amazing is that? The customer service at the Laurel Point is amazing. They'll even park your car for you! For those curious about the set-up at the Inn at Laurel Point, often couples are married in the back garden with a big white tent. This is awesome for both rainy and sunny daysBelow you'll see  Allie & Krzysztof's ceremony under the tent in the back garden.
Victoria's BC legislature is a very popular spot for wedding party portraits. Photographers need a permit (they're free) to show security so you can enjoy some privacy for portraits during an alloted time.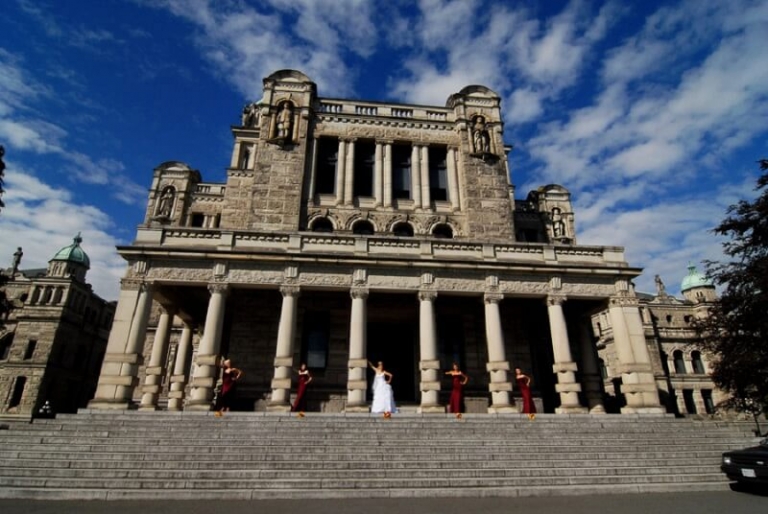 I really love the Parkside Victoria's wedding ceremony location, on a patio overlooking the legislature. It's also in central downtown on Humboldt (across from St. Ann's). Here are several pictures from the venue.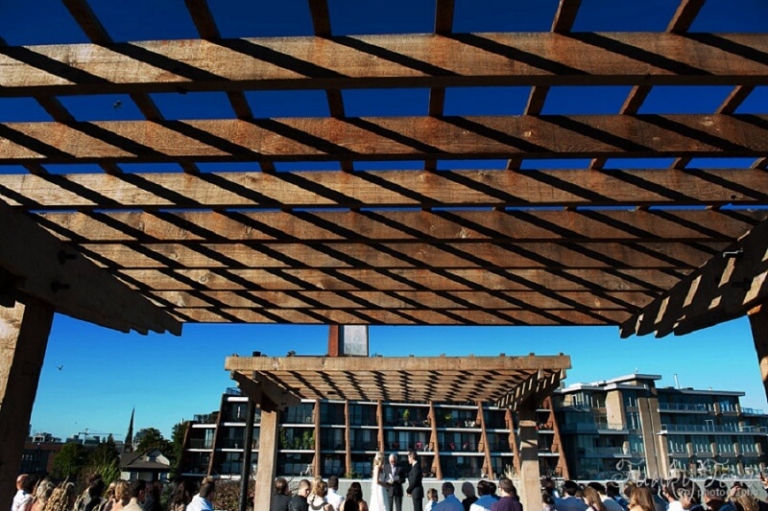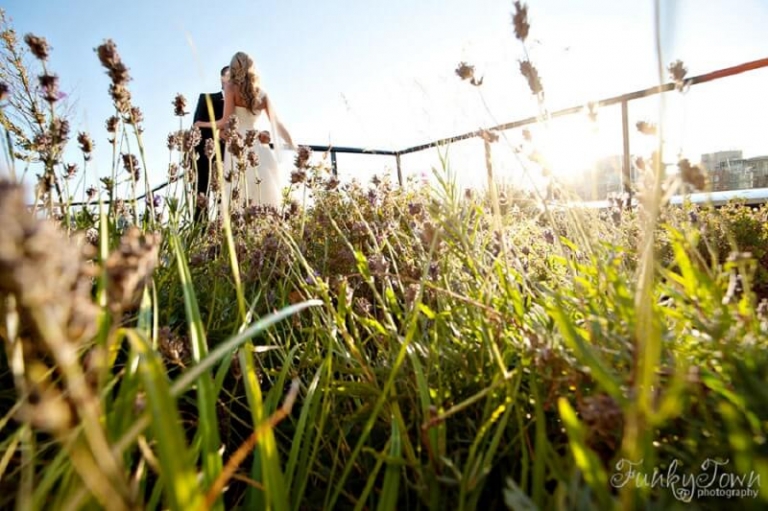 The Union Club is a really cool space for a wedding in downtown Victoria. Here are a few more photos from Jonathan & Margaret's wedding reception there.
There is a two-block radius behind the Yates Parkade around Bastion Square that's awesome for portraits. I love this ivy-covered wall right next to the parkade… and down the street from a few other great brick and coloured walls.