My name is Christina and I've visited Costa Rica almost every year since 1999, and over the last five years I've spent winters there photographing some of the most beautiful destination weddings in the world. I'm very excited to let you know Gwen is now available for weddings in Costa Rica as well. She's based in Gunacaste (Tamarindo) and I'm based in Manuel Antonio (near Jaco on the Central Pacific Coast). I'm often asked for additional advice on getting married in Costa Rica so I thought I'd put together this little guide to regions and style of weddings, plus considerations for hosting your wedding in the country.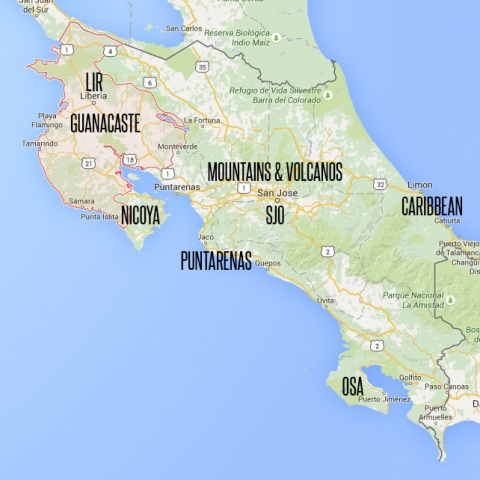 REGION 1: Gunacaste
Tamarindo, Playa Cocos, Playa Conchal or Playa Flamingo are all towns in the province of Gunacaste, which is in the North Pacific side of Costa Rica. Gunacaste is known for beautiful beaches where you can either surf or enjoy calm, tranquil waters. It's drier than the rest of the country and gets very little rain from November to April. The towns and beaches are easily accessed by the LIR (Liberia) airport and generally you'll spend only 30 minutes to an hour driving from the airport, which is a nice bonus. There are tons of villas and hotels in the area, including most of the all-inclusive resorts in the Costa Rica. The upside of the dry weather is you're almost guaranteed sunshine on your wedding day. The downside is that the dirt roads get very dusty and there are frequent wildfires, although there are now more paved roads leading to the more popular resorts. It also means there's very little green in the area. Click here for some examples of weddings photographed in this region.
REGION 2: NICOYA PENINSULA
Towns in this region include Tambor (which has the famous Playa Tambor All-Inclusive Resort), Santa Teresa, Mal Pais and Montezuma. This is a more remote region in the country since it isn't easily accessed by road. It has the same weather as the rest of Gunacaste (dry, which guarantees you sunshine on your wedding day). The area is also known for beautiful beaches, many of them secluded and there are also some really awesome yoga retreats in the area. The whole zone has a more hippie/eco-tour vibe. The waves make for great surfing in towns like Santa Terea and Montezuma in the north of the peninsula, while there are calm, tranquil waters in the south of the peninsula near Tambor. The plus side of hosting your wedding here is that you can find a beach all to yourself. You'll either spend about four hours down a windy, mostly dirt road from Tamarindo (near the LIR airport) to get to Santa Teresa, or you can access it by ferry or flight from the San Jose airport (SJO). If you're arriving by SJO you'll spend about an hour and a half driving to the ferry, then it's a scenic two hour crossing, plus another 30-minute to hour-and-a-half drive down some dusty, windy dirt roads. Another option is to fly one of the hopper planes (see details on hopper planes below), which is a super fun way to see the country. Flights run from SJO to Tambor daily and you'll need to arrange your flight quite far ahead of time in the busy season since they are a popular way to travel. From the Tambor airport you may have another one-hour windy, dusty drive up the road to get to Santa Teresa, but if you're staying in Tambor then you're all set. Click here for an example of a wedding in the Nicoya Peninsula
REGION 3: PUNTARENAS
This is my favorite region of the country so keep in mind I'm probably a bit biased. You know all those photos you see of Costa Rica with cute baby sloths peering at you from the trees and those crazy monkeys swinging from every vine? Well, most of those brochure photos were taken in Manuel Antonio in the Central Pacific region of the country. The plus side is that you get everything Costa Rica has to offer, including a variety of surf and tranquil beaches, jungles, and wildlife. The downside is that the region does receive more rainfall, even in the dry season (which is why it's more lush). Most venues are equipped to handle the rain. In Jaco/Herradura there's a more upscale resort called Villa Caletas/Zephyr Palace, which is set high on a cliff overlooking the ocean. Click here for weddings photographed here where you can have a more formal event. As you wind down through the Central Pacific you'll end up in Manuel Antonio, which is the crown jewel of the country. It has several beaches, including some of the most beautiful light-sand beaches in the country. Some beaches are better for surfing, while others are tranquil swimming holes. Manuel Antonio has a national park that's teeming with wildlife and it's a very family-oriented neck of the woods with a wide range of wedding venues, from rustic to chic. Further south is Dominical and Uvita, which are very laid-back surf towns. Here are some examples of weddings shot in Manuel Antonio:
Jan & Janelle's wedding during rainy season (November) at a chic villa called Punto de Vista and Molly & Jake's wedding on the beach during dry season. The best way to access Puntarenas is through the SJO airport. You can then either get a shuttle, drive or fly one of the hopper planes.
REGION 4: OSA
Okay, I think I may have lied when I said that Puntarenas was my favorite area of the country because I also love the Osa Peninsula, although for different reasons. This is the area you visit to have a true off-the-beaten-path adventure. You pretty much feel like you're walking around in a National Geographic issue throughout your visit. It's remote, some areas don't have electricity (or are off-the-grid) and the eco-resort rules the day. You'll have pristine beaches (almost always completely to yourself) and lots of wildlife. The downside is that it does rain sometimes, even in dry season and it may not be the best place to hold your wedding if you have anyone attending who is super nervous about the jungle or who doesn't travel well. However, if you have guests who want a true adventure, then this is the perfect vacation spot for you to have your destination wedding. Here's an example of a wedding I photographed last year in Osa at a beautiful Yoga Retreat Eco-Resort.
REGION 5: CARIBBEAN
Okay, you know how you picture the Caribbean as calm, glassy turquoise water and white-sand beaches? This doesn't apply to Costa Rica's Caribbean side, where popular towns include Cahuita or Puerto Viejo. Picture instead amazing surf beaches and rough waters. But that's also part of its charm. The towns in this area are not well serviced and, while that means you'll have a more difficult (and expensive) time arranging to bring in flowers, and the cake… you'll be rewarded with an awesome Caribbean Rastafari vibe and a serene jungle experience. It's an eight-hour drive from SJO to Puerto Viejo or Nature Air has now started to offer flights to Limon, which is then another two-hour drive to the surf towns. The region has a different rainy and dry season. It's actually drier in May-October and wetter from November to April so take note if you're planning a wedding here.
REGION 6: MOUNTAINS/VOLCANOES & CLOUD FORESTS
The Central Interior part of Costa Rica is where you'll find cloud forests, volcanoes and mountains. The most famous Volcano is Arenal which is about a 1.5 hour drive from SJO (or you can also take a hopper plane). The Poas Volcano region is also popular and it's where you'll sometimes be surrounded by clouds. Just like mountains anywhere, you could get a mix of weather no matter what time of year – from torrential downpours to bright sunshine. It can also sometimes be chilly or extremely hot. View Tanya & Albert's wedding at the Springs Resort in Arenal or Allison & Emery's wedding at el Silencio Lodge near Poas for an idea of what weddings are like in the mountains.
TRANSPORTATION
Costa Rica is tiny, but traveling around can be convoluted and can take time. There are a variety of transportation options.
RENTING A CAR: Pros – You have a bit more freedom and it may be more cost effective if you have several people sharing a vehicle. GPS and Waze are very well connected in Costa Rica so you'll be able to find your way around easily. Cons – Rental car costs and gas are expensive and if you don't have GPS then directions are a nightmare. It's also stressful driving in the SJO area, and there are huge pot-holes and crazy driving in some parts of the country.
TAKING A SHUTTLE: There are public shuttles such as Grey Lines and they offer a milk-run where you'll wait as each person is dropped off at their door. They are affordable and easy to take from LIR, and there are many routes from SJO with varying costs and time-lengths. I generally plan on a trip taking double the normal time if I'm on a shuttle since they are affordable and therefore popular and therefore you'll wait while they pick up and drop everyone off. Usually, times are once in the morning and once in the mid-afternoon… so if you have a late night or early morning flight it can sometimes be tricky finding a shuttle that will take you on time.
TAKING A PRIVATE SHUTTLE: This is how I like to get around, although it is a very expensive option if you're on your own. I use Morpho Vans and they are generally around $80 USD per hour of driving, usually regardless of the number of people in your party. They are safe and reliable as well. Plus, you'll be able to take it any time of day or night.
FLYING: There are two awesome hopper airlines in Costa Rica: Sansa and Nature Air. They all originate in SJO (not LIR) so if you're planning to use this as a means of transportation then it's probably best to fly into SJO rather than LIR. For instance, if you're going from Tambor to Manuel Antonio/Quepos then you'll fly Tambor to SJO then SJO to Quepos (not through LIR). Almost all connections are in SJO. The cost is fairly affordable – about $80 USD per hour per person and they are fast, efficient and a great way to see the country. They are small airplanes though so take heed if you have wedding guests who are afraid of heights.
HOTELS, RESORTS, ECO-RETREATS OR VILLAS
ALL-INCLUSIVES: Most of the all-inclusive resorts are in the Gunacaste Region. Some will charge you an additional $100-$500 for each additional vendor you bring on site so double check that you are allowed to hire your own photographer and florist, etc. They usually have a staff and offer a package where you get the resort photographer. Double check reviews to make sure that if you go with a resort photographer that other couples were happy with the service. However, some offer more flexibility and freedom so double check with the wedding coordinator about any hidden or extra costs if you plan to have your own photographer, wedding coordinator, etc. The pros of getting married at an all-inclusive is that you don't have to think about anything. The resort will usually arrange your transportation and all food is included so your guests don't have to think either. The downside is that you lose out on a bit of the adventure of trying some of the awesome restaurants or feeling the true Costa Rican culture.
HOTELS, RESORTS & ECO-RETREATS
There are a ton of different options from high-end to low-end. The only downside is that most hotels and resorts have a cut-off time for the wedding of around 9 or 10pm.
VILLAS
In my opinion this may be the best way to host a wedding in Costa Rica since you can find some larger villas that will sleep lots of your guests, plus you can hire a personal chef who will cater to everyone for probably the same or a lower cost than it would be per-person at an all-inclusive. You buy your own booze (the villa concierge or wedding coordinator can make arrangements for this), but that also means you can keep drinking it after the wedding is over. And even if there are noise restrictions your deejay or band may stop playing but you can continue to celebrate and no one will kick you out. 🙂