Wedding Photographers Costa Rica, Guatemala, Panama, the Caribbean & Mexico
Congratulations on your engagement! After photographing destination weddings in the tropics for almost 10 years we've learned a lot about what can go right, and what can go wrong. We created this little guide to help you create the best celebration ever! If you're looking for destination wedding photography inspiration, please visit our blog. We have thousands of photos for you to get ideas!
1. Be Careful of Additional Resort Fees and Permits
If you're getting married at a resort and you want to hire an outside vendor like a wedding photographer, florist, wedding coordinator, musician, DJ or any other service, it's a good idea to ask first about the resort's policy around "outside vendors." Many will have no problems at all with having you bring someone in to be a part of your day. However, quite a few of the franchise resorts will charge you a permit or outside vendor fee of between $100-$500 per vendor. There are a few reasons for this. The staff at the resort may lose out on a commission if you don't hire a photographer that's on their list, or they will lose out on the money they could make if you hire their photographer and order products from him or her. That's why it's very important to ask if there are fees for bringing in an outside photographer (some resorts will even have problems with your friend-who-is-a-photographer-staying-at-the-resort) before you sign the contract or pay a booking fee.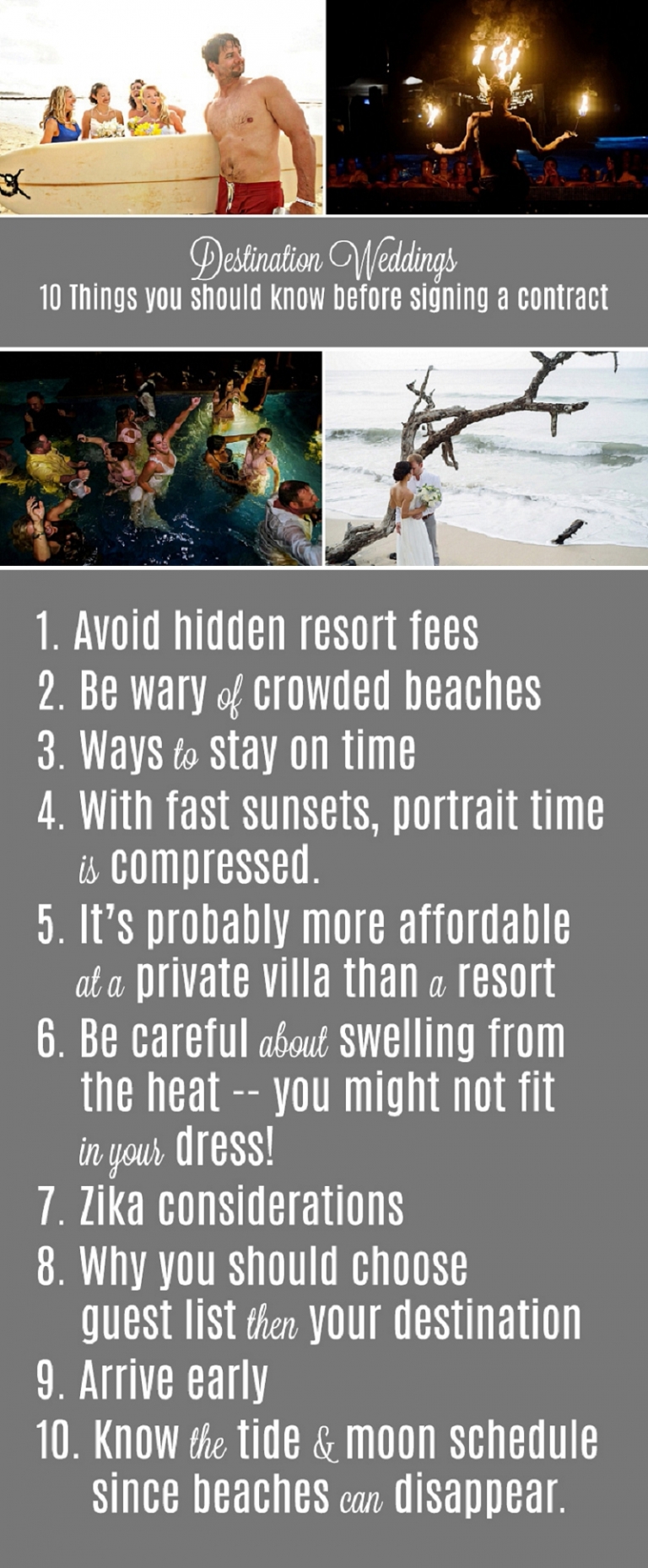 2. Having 10,000 other uninvited wedding guests wearing banana hammocks
Okay, maybe not 10,000 banana-hammock-clad tourists, but here is a little snapshot I took on the beach at my very first destination wedding. The bride was about to walk up the aisle… AT. THAT. VERY. MINUTE. It was a nice resort, and a beautiful wedding. BUT… see those guys laying on the beach chairs? They didn't move. Not even an inch.
We use telephoto lenses and can do a lot of tricks to make sure tourists don't appear in your wedding photos (you'd never know this wedding had tourists nearby if you saw the photos) regardless of how busy the beach. However, it's a good idea to go online and ask other couples what the ceremony spot was like for their wedding. Is there an actual private spot on the beach, reserved just for you and your guests? Or will you be sharing it with everyone else? It's a good idea to ask!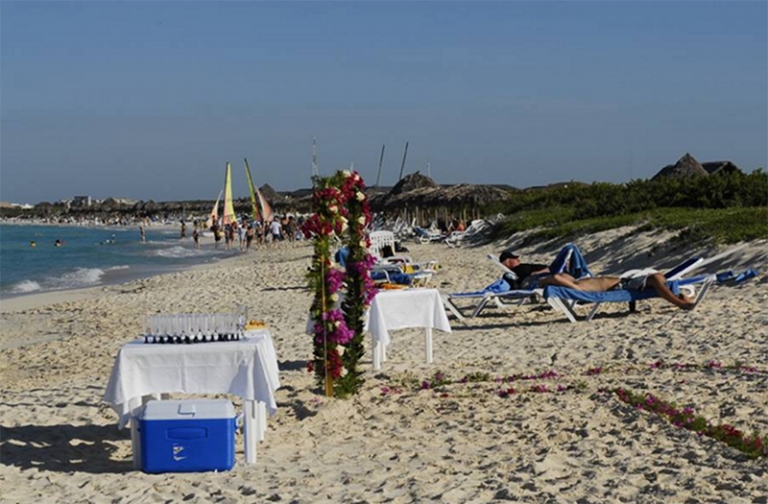 3. Don't be two hours late for your sunset wedding because hair and makeup ran long
Hair and makeup stylists often do a spectacular job at making sure you will look amazing regardless of the heat and wind. We highly recommend you hire someone who knows how to do makeup and hair in the tropics (the chemistry of your makeup and hair products might need to be considerably different than the ones you normally use at home). Regardless of location (at home or abroad), the majority of times when ceremonies start late it's because hair and make-up ran late. The other times it's guys not knowing how to put on bow ties (more on that later…) It's not always the stylists' fault. You will likely have had a trial, but the other women in your wedding party won't. Unfortunately, there are sometimes people unhappy with the way they look, and will ask for things to get re-done. This can cause considerable delays in the schedule.
Stylists might also tell you that the bride goes last. However, if things are running behind that means the bride gets short changed on her hair and makeup! That's why we always recommend you pad in at least an extra hour AND ensure you/the bride goes at least second last in the schedule. That way your own styling isn't rushed! This also leads me to #4…
4. The sun sets faster than you think near the equator!!
From Wikipedia: "At low latitudes, the sun sets perpendicular to the horizon, while at higher latitudes, the sun can set at a more oblique angle, allowing it to remain close to the horizon after sunset for a longer period of time."
What does this mean? Well, the sun will set faster than a buttered bullet! And that means you have less margin of error if things are late. In Costa Rica, were we spend winter months, this is the average timeline:
4:30-5:00 ceremony The sun will be very intense until around 4:55

5:00-5:10 post-ceremony greetings

5:10-5:20 family portraits – light is lower in the sky and more flattering

5:20-5:30 wedding party portraits – it's almost time for sunset

5:30-6:00 portraits of the two of you. During this time the sun will set (usually at around 5:45) and it will be pitch black dark by around 6:15 at the latest.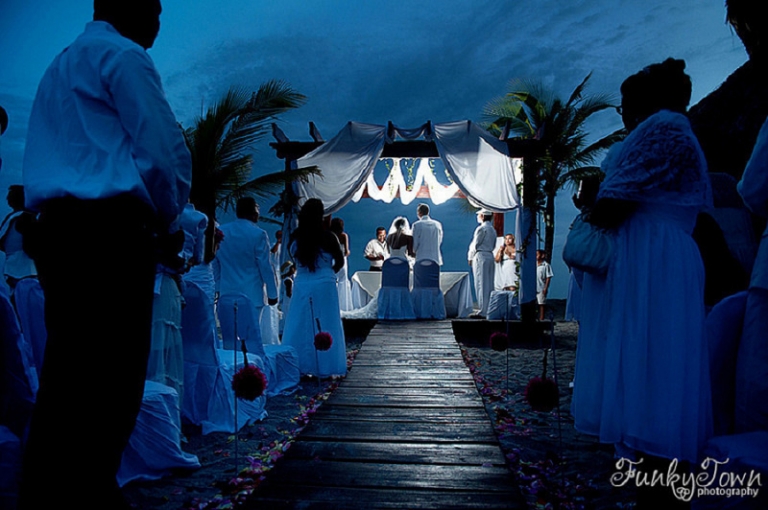 This photo was taken at around 6:00 p.m. after the sun had set. We're smart cookies and always bring along extra lighting equipment and that's why the scene looks awesome despite the fact that there was NO lighting on the beach. Not even a street light. None. Zip. Zilch. The only light you see is my extra flash, which is being triggered remotely.
The wedding was supposed to start at 4:00. However, hair and makeup ran late by TWO hours, and by the time the couple had their first kiss it was pitch black. They needed a flash light to help them sign their marriage documents. The couple was super cool about everything, and the ceremony was still amazing! But can you imagine if it was photographed by a resort photographer or someone inexperienced who doesn't have extra lighting equipment?
The other thing worth mentioning: Faster sunset = shorter portrait time. Some couples will choose to have a first look, which is an awesome way to ensure you have some great images of the two of you, without sacrificing your time with wedding guests.
5. It's probably more affordable to host your wedding at a villa than a resort
Going to a resort is how most of us spend our vacation time. That's why it's so popular for people to get married at one. But if you hire a great wedding coordinator, she or he can likely find you an awesome private hotel or villa to host your entire celebration. You can usually find a large villa that will sleep lots of your guests, plus you can hire a personal chef who will cater to everyone for probably the same or a lower cost than it would be per-person at an all-inclusive. You buy your own booze (the villa concierge or wedding coordinator can make arrangements for this), but that also means you can keep drinking it after the wedding is over. And even if there are noise restrictions your deejay or band may stop playing but you can continue to celebrate and no one will kick you out. Some villas will ask for an extra fee to host an event, but it's usually more affordable (or the same) as hosting a wedding at a resort.
 6. You might swell, making it a challenge to put on a fitted dress
Just as you want to have a bit of wiggle room in your gym shoes when you're out shopping, you'll want to plan a bit of wiggle room in your dress or any fitted outfit. Two things that cause your body to swell are airplaines hot and humid weather. Oh, and let's not forget alcohol. Believe it or not, sleeveless can often be the most restrictive style of dress when it comes to swelling. If you can't fit the girls into the bust then there's no other cover and that might lead to a wardrobe malfunction. We've seen quite a few women struggle to get their gowns on, even though it was loose when they left home. One poor bride almost ripped her dress during the final zip. It has nothing to do with what they ate and everything to do with the weather. Plan on about an inch or so of wiggle room.
7. If you're having a beach wedding, make a note of the tide and moon charts.
Some beaches can completely disappear at high-tide during a full moon. No lie. It's a great idea to check the tide and moon chart schedules, and consult with your wedding coordinator if you're hoping to have lots of beach for your destination wedding ceremony or portraits.
8. Choose your guest list THEN your destination
Think through the "must have" guest list. Do you have some family members whose health problems are worse in the heat? Do you have women in your wedding party who are pregnant or planning to get pregnant? Do you have loved ones with mobility issues who can't walk for long? Is there someone you'd like at your wedding who has extreme phobias? You can then choose your destination wedding location and venue based on what will be easiest for your most important wedding guests.
And remember, if there are elderly or infirmed people in your life who won't be able to attend your wedding regardless of location, you can set up a live broadcast from your wedding to their tablet.
We always recommend working with a wedding coordinator anyway, but definitely arrange for someone to help you plan the wedding if you have guests coming with special needs.
9. Arrive early and stay a couple of days after the wedding.
Arriving a few days early can save you a lot of last-minute wedding-planning stress. It will allow you to have a hair and makeup trial (very important, as we've discussed) and you will have time for last minute errands. And in case your luggage doesn't make you'll have time to wait for the airport to deliver it to you. Pad in a few extra vacation days so you can chill and enjoy down-time!
10. Zika-Concerns
We know this is a big concern with a lot of couples. Every tropical location will have times of the year when mosquitoes are less of a problem so it's worth doing a bit of research for the best time of year to visit. Destination weddings in Costa Rica are best from January to April because it's dry season and there's a much lower mosquito count (and the Zika-carrying mosquitos don't exist in the mountain areas). This will vary country-by-country in the tropics so it's best to look it up. And, of course, as with any travel, it's always a good idea to check in with your doctor or travel medical clinic to make sure you're up to date on any shots you might need for visiting the tropics.
With worries about Zika, here are a few tropical destinations that are currently (as of February, 2017) Zika-free
Bermuda – Close to home for anyone living in the US
Uruguay – This South-American destination has a ton to offer including beautiful colonial buildings, modern and chic cosmopolitan vibes, and amazing beaches.
Malta – There is no current travel advisory and it's a unique central Mediterranean getaway.
Chile – Another zika-free country for your destination wedding that offers vibrant cities, lush forests and vineyards.
Mallorca, Spain – You won't run out of beaches to visit when you're in Mallorca! Fall and spring are the best times of the year for a wedding.
Bora Bora – Known for scuba diving, luxury resorts and turquoise lagoons.
Cyprus – Located close to Greece, this country boasts amazing beaches and it can be a real bargain!
Iceland – This is fast becoming a destination wedding capital and there are plenty of airfare bargains these days. Think volcanoes, ice caves and hot springs!
Tahiti – The island that inspires tropical dreams of beach huts and waterfalls.
Any higher elevation in any country – 6,500 feet (2,000 meters) – there is little to no risk of Zika. That puts a whole ton of different mountain destination wedding locations on the map, including Antigua in Guatemala, or Arenal and Poas in Costa Rica.


Poas and Arenal in Costa Rica and Antigua in Guatemala are amazing (currently as of Feb 2017) Zika-FREE! locations to host your destination wedding in paradise.